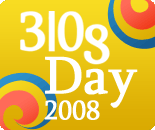 I'm not usually one for belated Birthday cards. For me, it's more meaningful to  acknowledge the birthday on the actual day. But as we know, it happens.
BlogDay 2008
August 31st was the 4th BlogDay– a day when bloggers were encouraged to find 5 new blogs they find interesting, and to notify the 5 bloggers that you're recommending them as part of BlogDay 2008. So, I'm sending these belated wishes and to express my gratitude to the countless bloggers from around the world, who I read, communicate with in one way or another, and to the ones I haven't yet discovered.
I've been blogging for almost a year now, and my education in social media wouldn't have happened as rapidly as it has, if not for all the bloggers who've come before me– who've shared their knowledge, two cents, and recommended valuable links and resources. Special thanks to all the bloggers who create unique content,  those who put their own unique spin on it–and all of the folks who've been out there conversing, even when they aren't sure if anyone is listening.
I remember the first time I saw the words "hello world" on my clunky ms-dos based PC in the late 80's.  Then a few years later,  I saw those words again on the trail-blazing websites I visited through the browser, Netscape Navigator.
The world has become much smaller as a result of the internet, our wireless connections and mobile devices. Every person who publishes content can have their own voice and niche perspective–can say "hello world" as often as they like.  But just because we can communicate in a flash, across oceans and languages, doesn't necessarily mean everyone should.
As Geoff Livingston and Brian Solis write in their book, Now is Gone:
The Internet's littered with failed corporate blogs and discontinued social media initiatives. Many simply can't think of new, interesting content to post, and with the time necessary to commit to a blog, many simply decide to stop. Content creators must diligently engage the community with appealing content for the life of the new media initiative, not just for the first few months. Having a unique look helps catch the reader's eye. Keeping them there requires a constant creation of appealing content that only comes with a significant time and thought commitment.
In the spirit of BlogDay, I'd also like to thank all of the bloggers whose posts we've included on our delicious list,  blogroll, and others who we've linked to– and those who have linked to us.  Special thanks to Merlyn Sanchez for the honorable mention on her insightful blog, Smart Business Owners.
Content creation doesn't happen in a vacuum, we need one another.
If you missed out on BlogDay, it's not too late–you can tell us about bloggers you'd like to acknowledge!