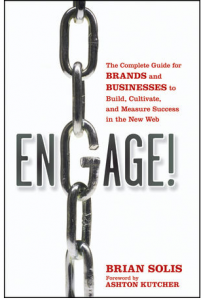 In Brian Solis's new book, Engage! The Complete Guide for Brands and Businesses to Build, Cultivate, and Measure Success in the New Web, he uses the metaphor of "new media university" to take the reader through the basics and onto a more advanced education. As he says, "We are forever students of new media."
See what's in the book.
In 2010, there's an overabundance of social media tools at our disposal. However, Brian Solis cautions us to keep what's important in the forefront, namely, content.
He writes about the need for producing compelling content as a way to gain and earn friends/followers. He reminds us that everyone in a company plays a critical role in communicating the brand; and to be effective in social media, a company needs to engage as a team. Consumers want a meaningful way to connect, and businesses must be ready to listen.
Brian Solis offers the Conversation Prism, a visual representation of social networks, and the Social Marketing Compass which he created with Jesse Thomas. These are invaluable resources and will serve as guides as you embark on developing a social media plan, as well as in your efforts to garner the support and participation of the organization.
The author does much more than simply introduce us to social media tools. Engage! is truly an education. If you take the time to do your homework, trying out the suggested resources, your efforts will pay off. There's something for everyone in this book regardless of where you are on the new media learning curve.
I found myself captivated by several things in particular: social media dashboards, aggregation and syndication, geo location and mobile networking, social objects and social media optimization.  Engage! is a book you will be able to pick up on any given day and find what you're looking for as a way to keep on track with your social media goals and objectives.
At Impressions through Media, we'll be talking with Brian Solis about the book and then posting part two with our Q &A.  If you have any questions you'd like to add to the list, suggest them here. We'll include your name and link back to you.
This is the first of two posts on Engage! by Brian Solis.
Integrated marketing tools organized by categories and instruments
Content communities, social bookmarking and livecasting
Multimedia, Forums/Groups and url shorteners
Social media dashboards
Aggregation and conversational threading in activity feeds, lifestreams, microblogs and microcommunities
Geo location and mobile networking, widgets and applications, video broadcast networks
Social objects (as the connection of abstract objects that trigger and host related dialogues and activities), Social media optimization
Syndicating social objects and aggregation networks
Establishing an online presence, shaping the brand persona
Real-time web and tapping into the statusphere
From Web 1.0 to 2.0 and ultimately to web squared
Online reputation
Talking with meaningful exchanges
Policies and guidelines
Rules of engagement
The Conversation Prism
Listening and searching the social web
Differing levels of participation
Creating a social media plan, using a social marketing compass
Social Media as a team effort
Social relationship management
Earning friends and followers/buying friends and followers
Return on participation, experience and influence
* DISCLOSURE OF MATERIAL CONNECTION Special thanks to John Wiley & Sons for providing a review copy of Engage! for this blog post. Wiley books are available at your local bookstore or by calling .