It's 2011, and Quora has emerged as the latest social media tool that has marketers buzzing. The site, which was launched in January 2010 with Facebook's former Chief Technology Officer serving as co-founder, has already attracted significant attention from the top social media blogs and from venture capitalists. Quora's innovative "social search" is being touted as "future of blogging" and "much, much bigger than Twitter."
Yet what exactly is Quora, and how can it fit into your social media marketing strategy? Weber Media Partners will answer these questions in a two-part series. Today, we will introduce this increasingly popular new search site. On Friday, we'll take you through the three ways Quora can help your business.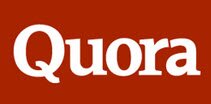 What is Quora?
Let's start with the basics. Quora defines itself as "a continually improving collection of questions and answers created, edited, and organized by everyone who uses it." Users can search the site for specific questions, browse questions by category, or post questions that have yet to be posed by a user. All users can also contribute to the answers, responding themselves or "voting up" their preferred response. Registration is free, and it is easy to connect your Quora account to your Facebook and Twitter profiles, and your blog.
Quora is a powerful tool, but it is not the most user-friendly one. The best way to learn is to practice. After creating your account, start following topics of interest to you. To do this, simply begin typing the topic into the search bar and select from the resulting list. Once you follow a topic, questions relating to the topic will appear in your activity stream (similar to your Twitter stream or Facebook news feed).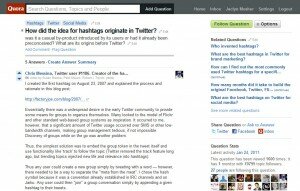 The next step after selecting your topics is to post answers or questions of your own. Click on the image at right to see an example of a Quora question and answer page. The answers appear on the page in descending order based on user votes (e.g. "up" votes make an answer rise up the page) and the author's previous record (e.g. the higher their previous posts, the higher their answers appear).
The Quora team is quick to note that it has protections in place to prevent users from "gaming" the system, and thus negating the accuracy and value of its content. In addition to monitoring its users' submissions, Quora requires you to use your full name to register. While it encourages users to share titles and employers as a way of verifying the source of the knowledge provided, the site does not permit the establishment of business or brand accounts. Quora has been actively removing accounts that violate this policy, including the blog Mashable's account. There are currently no plans to add this feature to Quora.
To learn how this new tool can help your business as part of your social media marketing plan, check back with us on Friday for the second half of our Quora series. And as always, share your thoughts here or via  or .